After relying on Salesforce's CRM solutions for nearly 12 years, Rossignol is adding an environmental focus to its partnership to track its carbon footprint with Net Zero Cloud.
Rossignol also joins the 1t.org initiative as a corporate pledger which will lead Rossignol to planting 100,000 trees by 2030.
Starting this season, both Rossignol and Salesforce will each plant a tree for every pair of skis sold on the Rossignol Group's e-commerce platforms.
The Rossignol Group, a leader in winter and mountain sports, recently extended its partnership with Salesforce by choosing Net Zero Cloud, which will allow the company to assess and monitor its carbon footprint. Rossignol has also announced becoming a contributor to 1t.org, an organization dedicated to reforesting the planet to help preserve biodiversity and contribute to its sustainable development objectives. These new commitments align with Rossignol Group's social and environmental responsibility program « Respect, » which rolled out in 2020.
A commitment to a sustainable transformation
Rossignol has been using Salesforce solutions for marketing, sales and customer service for almost 12 years in order to get a 360-degree view of its customers. The Group also relies on automation and generative AI solutions such as Einstein. This long-standing collaboration is now taking on a new dimension, based on the values shared by both the Rossignol Group and Salesforce. Rossignol recently unveiled a new strategic plan entitled « ASCENSION 2026, » a step toward a more virtuous model, and implemented a four-season diversification strategy. The company is thus leading a sustainable transformation of its business model, while relying on Salesforce's expertise and technology.
Meeting consumer expectations
This new trajectory is in line with the current consumers' concerns, demanding more from companies in terms of environmental responsibility and wanting them to commit to preserving biodiversity. Thus, the collaboration between Rossignol and Salesforce is part of a shared vision that takes into account consumers' growing expectations related to environmental responsibility. The two companies are committed to meeting these expectations by implementing sustainable practices based on shared values, demonstrated by the choice of Net Zero Cloud, the Salesforce platform aimed at managing the company's environmental, social and governance (ESG) strategy.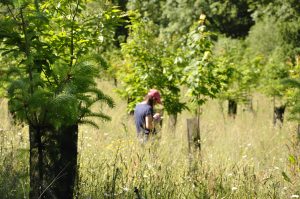 Innovation at the service of sustainable development
Net Zero Cloud is a platform designed by Salesforce to manage environmental, social, and governance metrics. It's built on the world's #1 CRM and will enable Rossignol to track all three areas of emissions even more accurately and transparently: direct emissions (Scope 1), indirect emissions linked to electricity and heat consumed (Scope 2), as well as indirect emissions from the company's supply chain (Scope 3).
Net Zero Cloud will thus provide Rossignol with full visibility of its carbon footprint. Rossignol will be able to identify the most significant sources of emissions and enable the implementation of concrete steps to reduce its emissions and meet its sustainability goals. By using Net Zero Cloud, Rossignol will be able to track even more precisely its progress, communicate transparently on its efforts, and report credibly on its performance in reducing its carbon footprint, thereby building trust with consumers and its partners.
An ecosystem-wide commitment
As part of its sustainable transformation, Rossignol has made a significant commitment as a contributor to 1t.org, alongside Salesforce. Launched by the World Economic Forum in 2021, 1t.org is an ambitious movement aiming at planting 1 trillion trees by 2030. The initiative brings together companies and organizations determined to work toward a sustainable future, and encourages their stakeholders to get involved in this shared goal.
From this season onward, for every pair of skis sold online by Rossignol, one tree will be planted by the Rossignol Group and another one by Salesforce. This commitment, along with other initiatives, will lead to Rossignol planting more than 100,000 trees by 2030.
Innovation is central to Rossignol's approach as part of the sustainable transformation, which is why the company also plans on joining Uplink as a supporting partner. Uplink is a global innovation platform launched at the World Economic Forum in Davos in 2020, in collaboration with Salesforce and other founding partners. This platform brings together an ecosystem of more than 50,000 entrepreneurs, investors and experts who are working on innovative projects and developing new business models with a view to achieving the United Nations' sustainable development goals. Rossignol will be able to share its expertise, network and experience to support sustainable and innovative local initiatives, thus contributing to the collective effort in favor of a better future.
« Our new ASCENSION 2026 strategic plan combines qualitative growth, industrial performance and a sustainable approach, and aims to develop mountain sports in an inclusive and responsible way. To implement these new ambitions, we have chosen to strengthen our partnership with Salesforce by taking advantage of their technological expertise and their best environmental practices, » says Vincent Wauters, Chairman of the Rossignol Group.
« After a successful 12-year partnership focused on optimizing the customer experience, we are thrilled to elevate our collaboration to a new level, rooted in shared values between our two companies, » says Emilie Sidiqian, Executive Vice President & General Manager of Salesforce France. « With Net Zero Cloud and 1t.org, we are supporting Rossignol even further by providing them the means to fulfill their new environmental commitments. »