Mountain sports industry professionals from around the world have recognized Rossignol as a global leader in sustainability and communications.
In the era of climate change, we at Rossignol understand it's our responsibility to help bring solutions to our century's biggest challenges. "We're opening a new chapter: a Rossignol Group ready to meet the moment, and to pass along a better planet to the next generation," said CEO and President Vincent Wauters.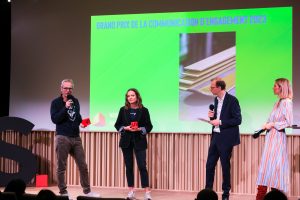 In 2020, Rossignol Group formalized its environmental commitments through a strong new policy that, since then, has sought to drastically minimize the company's footprint.
Since October 2022, we've been strategically recommitting to our promise of corporate responsibility via the initiatives we've detailed in our Respect program, under the framework of a carefully crafted communications campaign that's kept our customers, and the public, up to speed on our efforts, and kept us on our toes.
Every week since, we've outlined a new initiative via our social channels (Instagram, Facebook, LinkedIn, website, newsletters). It's a campaign that was thoroughly amplified with the launch of the world's first recyclable ski, the Essential, which we announced at the beginning of December.
To that end, we also applied a green retrofit to our presence at events, including an eco-conscious booth and upcycled swag to give away, made from old skis. This was especially well-received and lauded by attendees of the 2022 High Five Festival in Annecy, France.
Our communication strategy on the environment has one goal at its core: to inform customers, competitors, and followers about our social and environmental commitments, and to help encourage them to engage on the same level.
Communication is a powerful agent of change when used creatively, helping to inspire others to act. Effective communication can help change habits and build a more sustainable society. Along those lines, we hope to become part of a larger wave of collective eco-consciousness, and to help to reshape the consumer landscape.
Our efforts in that regard were recently awarded with the top prize (#GPStrat) for communications from the Grands Prixs des Stratégies, as well as a gold medal for our Essential project.
This prize recognizes and rewards our massive team effort at Rossignol Group, and encourages us to continue on a path of honest and transparent communication.