Quatre ans après le lancement de sa technologie phare Hybrid Core, mixant la performance du bois avec la légèreté et le toucher de neige feutré du PU, Dynastar présente aujourd'hui l'Hybrid Core 2.0, résultat d'une démarche humble mais déterminée vers l'écoconception.
L'objectif ? Construire des skis moins impactants pour l'environnement, tout en continuant d'améliorer la skiabilité de référence qui a forgé la légende de la marque, mêlant agilité, légèreté et puissance.
Four years after the launch of its flagship Hybrid Core technology, blending the performance of wood with the lightness and smooth snow feel of PU, Dynastar is now presenting the Hybrid Core 2.0, the result of a modest but determined eco-design approach.
The goal? To design skis with a reduced environmental impact while continuing to improve the benchmark skiability that has forged the brand's reputation with a combination of agility, lightness and power.
The environmental impact of a ski
The approach embarked upon by the Dynastar team began with a life cycle analysis on pairs of traditional skis as an essential starting point to then introduce significant changes in the production method. Used to measure a product's environmental impact throughout its lifetime, the life cycle analyses carried out with the AIR coop cooperative showed that materials in the skis and production of components represented the main contribution in all environmental impact categories, at 58,4%.
---
A new unique skiability
Dynastar therefore focused its efforts on this key dimension of materials to develop a new industrial process designed to significantly reduce the presence of these environmentally impacting components. By using the wood core (natural fiber) in three directions instead of one, this innovation makes it possible to limit the mechanical contribution of certain components, such as glued fibreglass, which are harmful for the environment. Another advantage of this technique is that it significantly reduces waste wood generated during production since there is no need to machine width the Hybrid Core 2.0, which maintains a rectangular shape regardless of the ski's sidecuts.
The result?
A significant reduction in all environmental indicators measured in a life cycle analysis comparing a Dynastar All-Mountain ski from the 2021-2022 collection without the Hybrid Core 2.0 technology and a Dynastar All-Mountain ski from the 2023-2024 collection with the Hybrid Core 2.0 construction, with equivalent performance on the slopes:
Incoming flows
-20%

Resource use, fossils

-59%

Resource use, mineral and metals
Outgoing flows
-30%

Particulate matter

-30%

Acidification

-24%

Greenhouses gaz emissions

-38%

Eutrophication freshwater
Thanks to the Hybrid Core 2.0, 45% of Dynastar's annual volumes will be eco-designed by the winter of 2025-2026
For the 2023-2024 winter season, the Hybrid Core 2.0 technology will be integrated in the SPEED 4×4, M-CROSS, E-CROSS, M-TOUR and E-TOUR ranges, representing 13% of total production, rising to 23% by the winter of 2024-2025. In three years' time, the brand's objective is to achieve almost 45% eco-designed production of annual volumes. The skis will be manufactured in the heart of the Alps, in the historic site of Sallanches.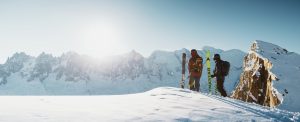 « The mountains that inspire our passions and occupy our leisure time are suffering directly from global warming. And it is not just our own playground but the entire natural ecosystem that is threatened. In our view, there is no future for skiing unless it is conceived of in a more responsible way. It is our duty to find solutions to reduce our industry's impact on the environment. With Hybrid Core 2.0, a door is opening onto the world of eco-design, which will be at the heart of all our future product plans. We still have a long way to go and there are many hurdles to overcome. Our teams will not give up and we will continue working to make our activity more sustainable! »

Laurent RICHARD, Brand Manager Dynastar