On the threshold of what promises to be a thrilling Olympic season, Rossignol Group announces contract renewals with Petra Vlhova (2024), Katharina Liensberger (2024) and Federica Brignone (2023).
Petra Vlhova finished the season with the top prize, the big crystal globe in the World Cup overall ranking. And with two World Cup medals in Cortina, silvers in the Slalom and Combined, the Slovak skier will be a serious contender to retain her title next season. She will be equipped with skis, boots, helmet and goggles by Rossignol and bindings by Look until 2024.
"I've skied on Rossignols since I was tiny, so naturally I'm pleased to be continuing my journey with the brand. I can't wait for next winter because so far, other than an Olympic medal, I've achieved everything I wanted most in the world."
At only 23 years of age, Katharina Liensberger has produced a heroic winter. With a crystal globe in the Slalom following 8 podiums in 9 Slaloms including 2 golds, World championship titles in Slalom and Parallel and a bronze medal in the Giant, the Austrian has earned true recognition. She will represent Rossignol for skis, Lange for boots and Look for bindings.
"I'm really happy to be staying with Team Rossignol until 2024. This means a great deal to me because it's thanks to this passionate brand, plus a lot of hard work and discipline, that I've managed to prove myself one of the best female skiers in the world. I'm very proud to represent Rossignol, who have supported me since the start of my career. This continuity is important to me because I'm progressing one step at a time, and there are new challenges for me every year. Of course, the next one will be the Beijing Olympics!"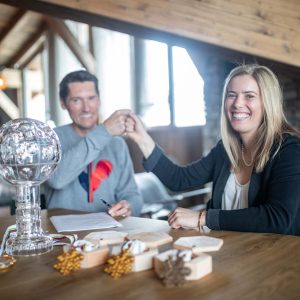 Having won the big crystal globe for the World Cup overall ranking in 2020, this year Federica Brignone has passed it on to another Band Of Heroes skier, Petra Vlhova. A sure sign of the impressive strength of Rossignol's women's team today! The Italian will use Rossignol skis, helmet, goggles and poles until 2023, with Lange boots and Look bindings.
I'm very pleased to be continuing my journey with Rossignol, the brand I've been with throughout my sporting career! They're a family to me, and I can't wait to share two more very important years with them and follow my sporting dreams."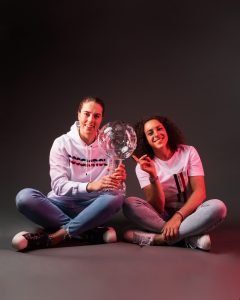 © Jordi Imberteche
Stéphane Mougin, Racing Director: "We are proud to continue the adventure with such talented and committed skiers as Petra, Katharina and Federica, and to continue to offer them the best possible equipment for their future goals, the Beijing Olympic Games in 2022 and the Courchevel-Méribel World Championships in 2023."